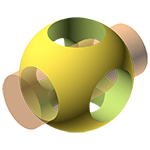 The 3D printer is a great tool for turning your ideas into real solid objects. However, taking that idea and turning it into a real 3D model is often a frustrating process. OpenSCAD is a free open source tool that allows you to build models of practical real world items. Using a simple scripting language, you can create complex objects and easily customize them and re-purpose them. Unlike traditional CAD programs, you don't need a steady hand and a high resolution mouse to create sophisticated models.
The charge for this course is $15 per participant. Parents must accompany children and participate if the child is part of the course.
IMAGES AND RECORDING: Robot Garden has cameras in place for safety and security. By entering the facility or participating in activities at Robot Garden, the participant agrees to have their image and or voice recorded by Robot Garden, its staff, volunteers or other participants and that those images may be posted online.